$15.99
AUD
Category: Adventure
A high-flying new adventure series from mega-bestselling author Anh Do. Amber has always loved insects, even before the day her life changed forever. But now she feels something different. Something more...powerful. Controlling her power might be the hardest thing Amber has ever done. Especially when sh e is running for her life. Who is the mysterious Firefighter? What connection does he have to Amber's old life? And, most importantly, does Amber have what it takes to truly become ... Skydragon?    ...Show more
$19.99
AUD
Category: Adventure
Henry Khoo's family treats him like a baby. He's not allowed to go anywhere without his sister/chaperone/bodyguard. His (former) best friend knows to expect his family's mafia-style interrogation when Henry's actually allowed to hang out at her house. And he definitely CAN'T take a journey halfway aroun d the world all by himself! But that's exactly his plan. After his family's annual trip to visit his father in Singapore is cancelled, Henry decides he doesn't want to be cooped up at home with his overprotective family and BFF turned NRFF (Not Really Friend Forever). Plus, he's hiding a your-life-is-over-if-you're-caught secret: he's the creator of an anonymous gossip cartoon, and he's on the verge of getting caught. Determined to prove his independence and avoid punishment for his crimes, Henry embarks on the greatest adventure ever . . . hoping it won't turn into the greatest disaster ever. Remy Lai takes readers on an adventure filled with humour, heart, and hijinks that's a sure bet for fans of Jerry Craft, Terri Libenson, and Shannon Hale! ...Show more
$16.99
AUD
Category: Adventure
After a school excursion goes horribly wrong, Kensy and Max are left with a sneaking suspicion that the incident was no accident. But there's no time for investigation as the twins are whisked away on a fully sanctioned Pharos mission. Upon landing in Zermatt, Kensy and Max are tasked with infiltrating the Van Leer family. Strange as the Van Leers are, proof of their misdeeds is scarce. And when a surprising figure appears in the ski town, it seems there is more than one mystery to solve. Kensy and Max are on a mission for justice and won't stop until it's served. ...Show more
$12.50
AUD
Category: Adventure | Series: Carly Mills Pioneer Girl Ser.
When Carly moves from the farm to boarding school in the city, she knows it's going to be tough. But then her magical shawl takes her back to 1891 and into the path of Queensland's first female doctor, Lilian Cooper.  Carly learns what it means to be strong brave and determined and how everything is bet ter with a friend my your side. Book 2 of the ground breaking new time-travelling series featuring the world's most inspirational pioneering women. ...Show more
$12.99
AUD
Category: Adventure | Series: Aussie Kids Ser.
Hi! I'm Zoe and this is Zac. We're so lucky we live at the zoo! As a birthday treat, we're helping out with the animals. We can't wait!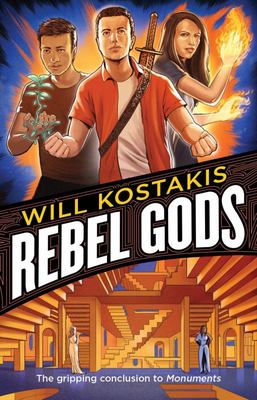 $19.99
AUD
Category: Adventure | Series: Monuments
With the Monuments gone, newbie gods Connor, Sally and Locky must stop the rebel gods from reducing the world to ruin. Trouble is, they don't know how. While Sally searches for answers and Locky makes plans to change the world, Connor struggles to keep up appearances as an ordinary teenager. But when a rebel god offers them a deal to end the chaos, their lives are turned upside down and they're forced to reckon with the question: Who should decide the fate of the world? Rebel Gods is the gripping conclusion to Monuments, a Children's Book Council of Australia Notable Book 2019, from Will Kostakis. It's a heartfelt look at family, friendship and the parallel lives we lead. ...Show more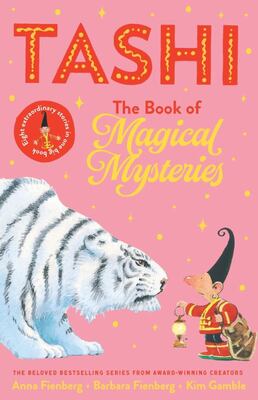 $16.99
AUD
Category: Adventure | Series: Tashi Ser.
No one in the village is as brave as Tashi . . . only he could scare the ghost monsters out of the forest, and only someone as bold as Tashi would go all the way along the dark underground passage to the Mountain of White Tigers. Tashi always has a cunning plan whether he is facing a ferocious war lord, outwitting a sly genie, or confronting Bang Bang, the trouble-making bully. Sometimes there's no time to think--Tashi just has to act fast. ...Show more
$16.99
AUD
Category: Adventure | Series: Tashi Ser.
Meet Tashi: he's brave, he's bold and he tells the best stories! Eight astonishing stories about Tashi and the weird and wonderful creatures of his fantastic world collected into one volume for the first time.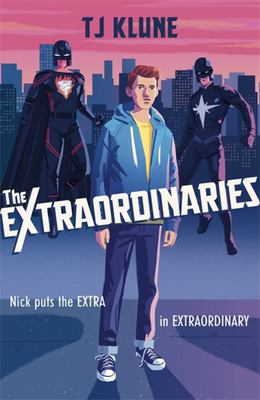 $19.99
AUD
Category: Adventure | Series: The\Extraordinaries Ser.
In Nova City, there are extraordinary people, capable of feats that defy the imagination. Shadow Star protects the city and manipulates darkness, and Pyro Storm is determined to bring the city to it's knees using his power over fire. And then there's Nick who . . . well, being the most popular fanfictio n writer in the Extraordinaries fandom is a superpower, right? Instead of fighting crime, Nick must contend with a new year at school, a father who doesn't trust him, and a best friend named Seth, who may or may not be the love of Nick's short, uneventful life. It should be enough. But after a chance encounter with Shadow Star, Nova City's mightiest hero (and Nick's biggest crush), Nick sets out to make himself extraordinary. And he'll do it with or without the reluctant help of Seth's help. TJ Klune's YA debut is a queer coming-of-age story about a fanboy with ADHD and the heroes he loves is Rainbow Rowell's Fangirl meets Brandon Sanderson's Steelheart. ...Show more
$16.99
AUD
Category: Adventure | Series: Alice-Miranda
Alice-Miranda and her friends are heading into the Australian outback for a desert adventure. What mysteries will they stumble upon?
$16.99
AUD
Category: Adventure | Reading Level: 8 Kids Middle Readers
A daring escape. A school lockdown. A thrilling chase. What would you risk to save a life?Share thisSima and her family are pressed to the rough, cold ground among fifty others. They lie next to the tall fence designed to keep them in. The wires are cut one by one.When they make their escape, a guard ra ises the alarm. Shouting, smoke bombs, people tackled to the ground. In the chaos Sima loses her parents.Dad told her to run, so she does, hiding in a school and triggering a lockdown. A boy, Dan, finds her hiding in the toilet block.What should he do? Help her? Dob her in? She's breaking the law, but is it right to lock kids up? And if he helps, should Sima trust him? Or run?THIS MOMENT, THESE DECISIONS, WILL CHANGE THE COURSE OF THEIR LIVES. ...Show more
$19.99
AUD
Category: Adventure | Series: Gone
It's been one year since all the adults disappeared. Gone.Despite the hunger, despite the lies, even despite the plague, the kids of Perdido Beach are determined to survive. Creeping into the tenuous new world they've built, though, is the worst incarnation yet of the enemy known as the Darkness: fear.W ithin the FAYZ, life breaks down while the Darkness takes over-turning the dome-world of the FAYZ entirely black. A will to survive and a desire to take care of those they love endure in this ravaged band, even in the bleakest moments. But in darkness, the worst fears of all emerge, and the cruelest of intentions are carried out. After so many months, is all about to be lost in the FAYZ? ...Show more