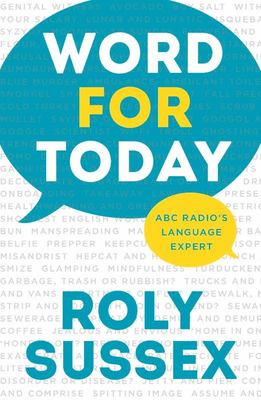 $24.99
AUD
Category: Words
Did you know that the word salary comes from the Latin salfor 'salt', since part of the payment to Roman soldiers was in salt? That braces and suspenders used to refer to different items of clothing? Or that trolls have migrated from fairytales to online discussion forums? The English language is curren tly going through a period of tremendous ferment, growth and expansion. Old 'rules' are being challenged, or weakened. New ones are emerging. And mistakes and misuses are popping up with all the speed that the internet can provide. For over two decades, linguist Roly Sussex has documented the nature and evolution of the English Language on his popular weekly ABC Radio program 'Word for Today'. For the first time, the best of these reflections on word origins, neologisms and misuses are collected in this witty and insightful book. With Word for Today, you'll always have a word for tomorrow. ...Show more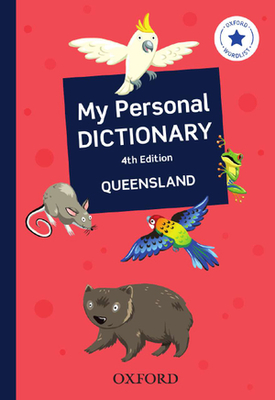 $12.95
AUD
Category: English Dictionary | Series: Language Based Consumable Workbooks Ser.
My Personal Dictionary 4th EditionIdeal for writing across the curriculum.Helps children understand the use of reference tools through the creation of their own simple versions.Uses state-specific handwriting fonts for practising handwriting skills.Includes phonics pages on short vowel rhyming words.Pro vides special illustrated wordlists at the back of the book, covering different themes in the curriculum.Includes all 500 Oxford Wordlist high-frequency words. ...Show more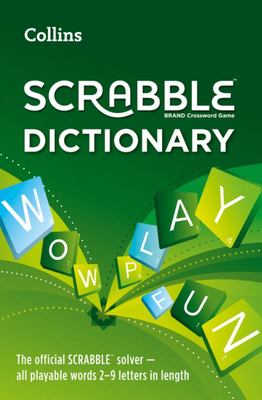 $19.99
AUD
Category: English Dictionary
An essential resource for all serious Scrabble players. This major new edition is fully updated to include all valid words between 2 and 9 letters in length from the latest official Scrabble wordlist, and allows players to settle disputes over the eligibility of words. This book includes all playable wo rds of two to nine letters in length, in one easy-to-follow straight alphabetical list. The short definitions, given for every main word listed, have been updated for this new edition, and allow players to check meanings of words without having to consult a second dictionary. Collins Scrabble dictionaries are endorsed by Mattel and are an essential reference for all Scrabble players. SCRABBLE(tm) is a registered trademark of J. W. Spear & Sons Ltd., a subsidiary of Mattel, Inc.© 2016 Mattel, Inc. All Rights Reserved. ...Show more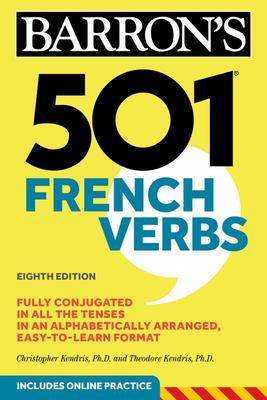 501 French Verbs
by Christopher Kendris; Theodore Kendris
$39.99
AUD
Category: Foreign Language | Series: Barron's 501 Verbs Ser.
The original and most trusted verb book in the market with over 50 years of proven excellence! Barron's 501 French Verbs provides students, travelers, and adult learners with fingertip access to the 501 most common and useful French verbs in all 15 tenses and moods. Fluency in French begins with a knowl edge of correct verb formation and usage. A quick reference guide such as this classic book is an absolute essential for those learning the language or those who just need a quick refresher. The authors provide clear, easy-to-follow instruction along with synonyms, antonyms and idiomatic expressions. Each verb is listed alphabetically in chart form--one verb per page along with its English translation. Highlights of this brand new edition include: * One verb per page conjugated in all 15 tenses and moods * Synonyms, antonyms and idiomatic phrases for each verb * The 55 most essential French verbs highlighted and used in context * More than 2,200 additional regular verbs conjugated like the book's 501 model verbs * Passive and active voice formations * Even more entries in the English-French verb index covering impersonal verbs, weather expressions, and more * Four online quizzes to reinforce verb conjugations and usage * Audio program to model native speaker rhythms and intonation Key Selling Points New to the Eighth Edition * NEW online activity center including audio as well as online quizzes with automated grading and answers. * NEW Streamlined instructions * NEW Sleek design to improve clarity and make more learner-friendly * Even more entries in the English-French verb index ...Show more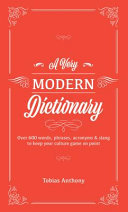 $24.99
AUD
Category: Dictionaries
Trouble negotiating the modern world, what with all these newfangled words and phrases so beloved of Gen Z and Millennials? We're here to help. This handy dictionary hilariously captures the state of the English language in the year 2020. The Internet--and more specifically, social media--can make new a nd confusing words spread like wildfire. So it's easy to feel like sometimes you get left behind in the linguistic dust. For example, do you know your bromance from your dudevorce, your turnt from your thirst trap? How about bae or doe? What about FOMO, lit AF, tea (sigh--no, Dad, not the drink), dead (no, not the state of nonbeing)? Look, we totally get it--communicating in the modern world is hard. So with more than 600 entries, all replete with sassy definitions, let this book be your definitive guide to the modern English language. With this updated and expanded edition of the original 2017 version, A Very Modern Dictionary finds itself at the very forefront of modern parlance. No longer will you need to ask the closest teenager to translate that meme sailing right over your head--this book is your passport to the new world of semantics. ...Show more
$22.99
AUD
Category: Words | Series: Aboriginal Library
Is Kangaroo an Aboriginal word? What does brolga mean? Many of the words Australians use every day have their origins in some of the hundreds of Aboriginal languages once spoken across the land. this book is a fascinating reference for anyone interested in knowing more about the original inhabitants of this vast continent. ...Show more
$17.99
AUD
Category: English Dictionary
The ever popular and thoroughly entertaining, Aussie Slang Dictionary (13th edition), is back to help you decipher and speak the true local language. Full of dazzling definitions from true-blue Aussies, you'll never be lost for words with this collection of colourful sayings. From 'aerial ping-pong' (A FL) to 'on the wrong tram' (to be following the wrong train of thought) and finishing up with some verbal diarrhoea (never-ending blather), your mind will be brimming with useful (and not so useful!) sayings for your next run-in with a true Aussie character. ...Show more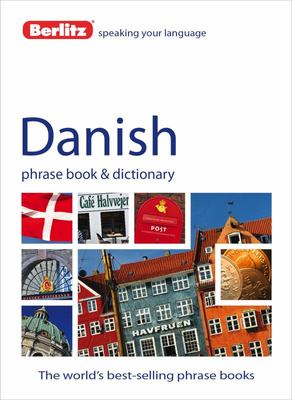 $14.99
AUD
Category: Foreign Language | Series: Berlitz Phrasebooks
With its completely redesigned interior making the book even more accessible than before, the "Berlitz Danish Phrase Book" is ideal for travellers of all ages who are looking for a reliable and up-to-date phrase book that contains all the phrases they really need when they are in Denmark. The new and im proved content has a more visually appealing colour-coding system, enabling users to find what they want, when they want it, and in less time. The book also provides simplified phonetics to ensure that users pronounce the Danish words and phrases correctly. Stunning images enhance the content and make this the most visually attractive Danish phrase book on the market. ...Show more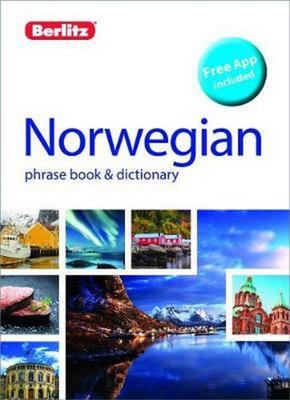 $14.99
AUD
Category: Foreign Language | Series: PHRASE BOOK and DIC NEW Ser.
Berlitz Phrasebook and Dictionary Norwegian Compact, clear, and packed with key words and phrases to help conversation, this pocket-sized Norwegian phrasebook and dictionary from Berlitz's trusted language experts (with free app) is a trusty travel companion, and all you need to make yourself understood - and to understand others - when you're out andabout in Norway. - With its emphasis on conversational usage, and up-to-date language on social media, leisure, business - and more - this is the only phrase book you'll need when exploring Norway - Includes 3000-word bilingual dictionary - Visually appealing colour-coding system means you can find what you want, when you want, and fast - The simplified Berlitz pronunciation system will ensure you're clearly understood - Stunning colour photography enhances the expert content, and makes this series the most visually attractive phrase book on the market About Berlitz: Berlitz draws on years of travel and language expertise to bring you a wide range of travel and language products, including travel guides, maps, phrase books, language-learning courses, dictionaries and kids' language products. ...Show more
$20.99
AUD
Category: English Dictionary | Reading Level: Teen - Grade 10-12, Age 15-18
A new-style dictionary in a durable and affordable format, for everyday use, with over 295,000 words, phrases, and definitions for today's fast-changing world and thousands of fascinating entries for people and places. Ideal for everyday use in the office, at home, and for study, this is the dictionary for support in all areas of the language. Find out more--thousands of fascinating, fact-filled biographical and geographical entries for people and places. Have confidence--contains more references than any comparable dictionary with over 295,000. Comprehensive and authoritative, with all the words and definitions you need. Get it right--language notes help you choose the right words for every situation and give advice on words that are changing in meaning or use. Be confident--a supplement with hundreds of language tips for everyday use Get there fast--an ultra-clear layout allows you to find information quickly. ...Show more
$12.99
AUD
Category: Foreign Language | Series: Collins gem
A portable, up-to-the-minute Spanish dictionary. This latest mini edition comes with all the new and current words in Spanish and English plus handy links to Spanish verb tables. Its small, compact size makes it the perfect choice for travellers, students and business people. Features include: * All the latest words in Spanish and English * Links to verb tables * Ideal companion to GCSE Spanish * User-friendly Phrasefinder supplement for travellers, including a handy menu-reader section * Clear, colour layout, useful examples, language and cultural notes * Durable, flexibound cover makes it ideal for travel or for the schoolbag All the latest words reflecting changes in modern lifestyle, plus an easy-to-read colour layout, special treatment of key words such as can, that, ser, de, notes about life in Spanish-speaking countries and warnings on commonly confused words. The Phrasefinder section has been developed to give travellers on business, school and leisure trips all the essential phrases they need. The menu-reader section is a quick guide to the most common words and phrases you will find in Spanish bars and restaurants, ensuring you always get what you expect from a meal out. 40,000 words and phrases, 60,000 translations ...Show more
$29.99
AUD
Category: Foreign Language | Series: Collins Family Pet Guides
The Collins Latin Dictionary & Grammar offers the student of Latin the essential two-in-one reference: a comprehensive dictionary and a user-friendly grammar in one handy volume. The Collins Latin Dictionary and Grammar is designed for students of Latin and is the ideal text for anyone who needs eas y access to both a dictionary and a grammar reference guide. * The Collins Latin Dictionary and Grammar offers comprehensive treatment of the vocabulary of texts read in school and university. * The perfect complement to the dictionary - a comprehensive grammar guide which presents detailed verb tables covering 120 regular verbs and over 300 irregular verbs. * The clear layout ensures that users find the information they need quickly and easily. Other titles in the Collins Latin Dictionary range include the Collins Gem Latin Dictionary and one-way Kindle versions. ...Show more