$19.99
AUD
Category: Personal Development
Practical illustrated toolkit to ease worry and panic by an anxiety specialist who uses it herself.  
$28.99
AUD
Category: Personal Development | Reading Level: very good
What is the difference between having empathy and being an empath? "Having empathy means our heart goes out to another person in joy or pain," says Judith Orloff, MD. "But for empaths it goes much further. We actually feel others' emotions, energy, and physical symptoms in our own bodies, without the us ual defenses that most people have." With The Empath's Survival Guide, Dr. Orloff offers a practical tool set to help sensitive people develop healthy coping mechanisms in our high-stimulus world--while fully embracing the empath's gifts of intuition, compassion, creativity, and spiritual connection. This practical, empowering, and loving book was created to support empaths and anyone who wants to develop their sensitivities to become more caring people in an often-insensitive world. It helps empaths through their unique challenges and gives loved ones a better understanding of the needs and gifts of the sensitive people in their lives. In this book Dr. Orloff offers crucial practices, including: - Self-assessment exercises to help you identify your empath type - Tools for protecting yourself from sensory overload, exhaustion, addictions, and compassion fatigue while replenishing your vital energy - Simple and effective strategies to stop absorbing stress and physical symptoms from others and protect yourself from narcissists and other energy vampires - How to find the right work and create relationships that nourish you - How to navigate intimate relationships without feeling overwhelmed - Guidance for parenting and raising empathic children - Awakening the empath's gift of intuition and deepening your spiritual connection to all living beings For any sensitive person who's been told to "grow a thick skin," this paperback edition of The Empath's Survival Guide is an invaluable resource for staying fully open while building resilience, exploring your gifts of depth and compassion, and feeling welcome and valued by a world that desperately needs what you have to offer. ...Show more
$32.99
AUD
Category: Personal Development
How a New York Times bestselling author and New Yorker contributor parlayed a strong grasp of the science of human decision-making and a woeful ignorance of cards into a life-changing run as a professional poker player, under the wing of a legend of the game Maria Konnikova had never actually played po ker before and didn't even know the rules when she approached Erik Seidel - Poker Hall of Fame inductee, winner of tens of millions of dollars in earnings - and asked him to be her mentor. She had faced a stretch of personal bad luck, and her reflections on the role of chance in her life had pointed her to poker as the ultimate master class in learning to distinguish what can be controlled and what can't. Seidel was in, and soon Konnikova was down the rabbit hole with him, a journey that would lead her to the following year's World Series of Poker. Then something extraordinary happened. Under Seidel's guidance, Konnikova began to have many epiphanies about life that derived from her new pursuit, including how to better read not just her opponents but far more importantly herself. She found her way to making better decisions and to a place where she could accept luck for what it is, and what it isn't. But she also began to win. She even learned to like Las Vegas. In the end, Konnikova is a student of human behaviour, and ultimately the point of her incredible adventure was to render it into a container for its invaluable lessons. The biggest bluff of all, she learned is that skill is enough. This is a book that will focus your mind and strengthen your hand. ...Show more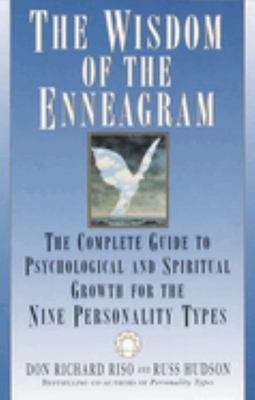 $39.99
AUD
Category: Personal Development | Reading Level: General Adult
From the foremost teachers and developers of the Enneagram come practical methods for using the nine personality types as a springboard for psychological and spiritual growth.
Items per page:
1 - 4 of 4