Aunty's Wedding
by Miranda Tapsell; Joshua Tyler
$24.99
AUD
Category: Picture Books - Indigenous
A Tiwi-Island girl prepares for Aunty's wedding with help from her maningawu in this vibrant picture book by the popular actor and writers of Top End Wedding and the highly acclaimed illustrator of Alfred's War.   Everyone on the island is getting ready for Aunty's wedding.Maningawu puts on her best ha t and I can wear a wurrijinga in my hair. Lucky!We all dress up, but I still don't understand. Why do people have a wedding?A warm family story that celebrates love and culture from actor, activist, writer and Australian sweetheart, Miranda Tapsell, and Joshua Tyler, co-writer of Top End Wedding, lushly illustrated by Samantha Fry. ...Show more
$24.99
AUD
Category: Picture Books - Indigenous
Archie Roach AM's deeply personal song, 'Took the Children Away', from his 1990 debut album, Charcoal Lane, was the first song ever to receive a prestigious Australian Human Rights Award. Its impact was immediate, shining a stark light on Australia's shameful past practices of removing children from the ir families. The song also speaks of love and reconnection and has travelled across seas into the hearts of First Nations communities everywhere.   One dark day, when Archie was just two years old, big black government cars came to his home at Framlingham Aboriginal Mission in southwest Victoria. They forcibly took Archie away from his mother, father and family - everything he had ever known. They took away thousands of other Aboriginal children, right around Australia. Powerful people had decided that these children would be better off living and learning all the white man's ways. Frightened and alone, they grew up in institutions and foster homes. They became known as the Stolen Generations.   Ruby Hunter was one of those children, too, only eight when she was taken from the loving arms of her grandmother living on the Coorong in South Australia.   Archie and Ruby met and fell in love as homeless teenagers and Archie started writing songs to help ease his pain. Archie's songs, loved by fans worldwide, tell a powerful story of survival and renewal, and the healing power of music.   In this special 30th anniversary edition, Archie's iconic lyrics sit alongside evocative illustrations by his beloved soulmate and musical collaborator, Ruby Hunter. Also included are Archie's recollections of his family and rare historical photographs.   Aboriginal and Torres Strait Islander readers are warned that this book contains images of people who are deceased or who may now be deceased.     ...Show more
$16.99
AUD
Category: Picture Books - Indigenous
A delightful counting book of Australian animals by acclaimed indigenous artist Bronwyn Bancroft, this stunning picture book has lizards hissing and wallabies hopping One platypus divingTwo brolgas dancingThree koalas dozingFour crocodiles snappingFive kookaburras laughing . . . The book is both a deli ghtful introduction to the numbers one through 15 and a unique exploration of Australian wildlife--some familiar, others more unusual. The animals featured include sugar gliders, emus, geckos, wallabies, and many more. ...Show more
$14.99
AUD
Category: Picture Books - Indigenous
An Australian ABC of Animals, a lavishly illustrated alphabet book by well-known Aboriginal artist Bronwyn Bancroft, is a must-have for every home and library. The book is both a delightful introduction to the alphabet, and a unique exploration of Australian wildlife--some familiar, others more unusual- -as seen through the eyes of an indigenous artist. Animals include: kangaroo, bandicoot, wombat, echidna, cockatoo, frog, and goanna--and many more. ...Show more
$24.99
AUD
Category: Picture Books - Indigenous | Reading Level: New Illustrator
Age range 5 to 12 'Warami mittigar. Hello friend. We welcome you to Darug Country.' Cooee Mittigar, meaning Come Here Friend, is an invitation to yana (walk), on Darug Country.  In this stunning picture book, Darug creators Jasmine Seymour and Leanne Mulgo Watson tell a story on Darug Songlines, introdu cing children and adults-alike to Darug Nura (Country) and language. Greeted by Mulgo, the black swan, readers are welcomed to Nura. Journeying through the seasons, Mulgo describes the land, skyscape, birds, animals and totems. It is a gentle guide to how Darug people read the seasons, knowing when it is time to hunt and time to rest. It is also an appeal to remember, off ering new ways of seeing and reading the lands of the surrounding Sydney region.    With Darug language interspersed with English and an extensive glossary throughout, Cooee Mittigar presents an important tool for learning, told as a tender story with exquisite illustrations. It is Jasmine and Leanne's wish that with this book, everyone will know that the Darug mob are still here and still strong.  Cooee mittigar. Tread softly on our lands.Know that this dreaming was here. Is still here.Will be forever. ...Show more
Found (HB)
by Bruce Pascoe; Charmaine Ledden-Lewis (Illustrator)
$24.99
AUD
Category: Picture Books - Indigenous
This gentle story set in the rugged Australian bush is about a small calf who becomes separated from his family. The little calf is alone and simply wants his mother, sisters and brothers. He can see other animals, and after running to the river, manages to ask some horses if they are his family. The ca lf's family have been taken away in the back of a noisy truck. So begins the little calf's journey to find his family. In Found we share the calf's point of view in an evocative story, accompanied by stunning illustrations. ...Show more
I Want to Be a Superhero
by Breanna Humes; Ambelin Kwaymullina (Illustrator)
$24.99
AUD
Category: Picture Books - Indigenous
Age range 3 to 9Breanna wrote this story when she was 8 years old and wanted to fly. Beautifully told and illustrated story of Breanna, who wants to be a superhero. She asks family and friends if she can become a superhero by wishing upon a shooting star. She tries but it doesn't work. Breanna is finall y happy with the idea of working hard and becoming a superhero doctor, lawyer, engineer or vet. But she still wants to fly! ...Show more
ABC Dreaming
by Warren Brim (Illustrator)
$17.95
AUD
Category: Picture Books - Indigenous
Dingoes, bats, red-eyed green tree frogs ...an ABC of amazing Australian creatures At last ...a unique Australian ABC book. Featuring the artwork of celebrated Queensland artist Warren Brim, ABC Dreaming introduces young children to their alphabet and the beauty of Indigenous art in a bright and fun way . With well-thought out design and an array of amazing creatures that can be found in the rainforest, both parents and teachers will love this book when introducing young children to the letters of the alphabet. ABC Dreaming has been produced in consultation with Early Childhood specialists. ...Show more
$16.99
AUD
Category: Picture Books - Indigenous
This remarkable book is more than an A to Z of Australian animals. It is a spectrum of every feeling under the sun - from wonder to vanity, from weariness to delight - and every one of these passions can be found between the covers of a book...if only you take the time to have a look.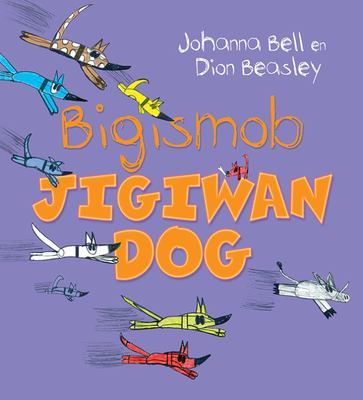 Bigismob Jigiwan Dog
by Johanna Bell; Dion Beasley (Illustrator); Translated by Meigim Kriol Strongbala project of Yugul Mangi Development Aboriginal Corporation (Translator)
$24.99
AUD
Category: Picture Books - Indigenous
Rediscover this much loved book featuring the cheeky antics of dogs in a remote outback community, and experience Kriol, a lively language from the north of Australia.
$24.99
AUD
Category: Picture Books - Indigenous
Age range 5 to 12 Remember — beauty comes from within... Way back, before once-upon-a-time, there was the Dreamtime when all the birds were white. One of those white birds was a crow called Waan. One day a big storm came through and a magnificent rainbow appeared. When the birds passed through the rainb ow, one by one, their feathers took on its beautiful colours. Waan flew through the rainbow too and his feathers became a beautiful red and orange. But Waan was jealous of the other birds. He wanted to be more beautifully coloured than anyone. So Waan hatched a cunning plan.  But things did not go the way Waan wanted… ...Show more
$19.99
AUD
Category: Picture Books - Indigenous | Series: Little People, Big Dreams
In this book from the critically acclaimed Little People, BIG DREAMS series, discover the life of Evonne Goolagong, the inspiring indigenous Australian tennis player. Evonne grew up on a hot, dusty farm in Australia. She was the third of eight children, and descendant of the Wirundjuri people, who have lived on the land for more than 60,000 years. Her talent for tennis was discovered at a local tennis club, and before she knew it, the girl dreaming about the place called "Wimbledon" was playing on center court. This moving book features stylish and quirky illustrations and extra facts at the back, including a biographical timeline with historical photos and a detailed profile of the brilliant tennis player's life. Little People, BIG DREAMS is a best-selling series of books and educational games that explore the lives of outstanding people, from designers and artists to scientists and activists. All of them achieved incredible things, yet each began life as a child with a dream. This empowering series offers inspiring messages to children of all ages, in a range of formats. The board books are told in simple sentences, perfect for reading aloud to babies and toddlers. The hardcover versions present expanded stories for beginning readers. Boxed gift sets allow you to collect a selection of the books by theme. Paper dolls, learning cards, matching games, and other fun learning tools provide even more ways to make the lives of these role models accessible to children.Inspire the next generation of outstanding people who will change the world with Little People, BIG DREAMS   ...Show more