$32.99
AUD
Category: Mind Body Spirit
A beautiful, intimate and inspiring investigation into how we can find and nurture within ourselves that essential quality of internal happiness - the 'light within' that Julia Baird calls 'phosphorescence' - which will sustain us even through the darkest times. Over the last decade, we have become bett er at knowing what brings us contentment, well-being and joy. We know, for example, that there are a few core truths to science of happiness. We know that being kind and altruistic makes us happy, that turning off devices, talking to people, forging relationships, living with meaning and delving into the concerns of others offer our best chance at achieving happiness. But how do we retain happiness? It often slips out of our hands as quickly as we find it. So, when we are exposed to, or learn, good things, how do we continue to burn with them? And more than that, when our world goes dark, when we're overwhelmed by illness or heartbreak, loss or pain, how do we survive, stay alive or even bloom? In the muck and grit of a daily existence full of disappointments and a disturbing lack of control over many of the things that matter most - finite relationships, fragile health, fraying economies, a planet in peril - how do we find, nurture and carry our own inner, living light - a light to ward off the darkness? Absorbing, achingly beautiful, inspiring and deeply moving, Julia Baird has written exactly the book we need for these times. ...Show more
$29.99
AUD
Category: Self Help
Women Don't Owe You Pretty tells you to love sex, hate sexism, protect your goddamn energy, life is short, dump them, and that you owe men nothing, least of all pretty. Florence's debut book explores all progressive corners of the feminist conversation; from insecurity projection and refusing to find c omfort in other women's flaws, to deciding whether to date or dump them, all the way through to unpacking the male gaze and how it shapes our identity. Women Don't Owe You Pretty is an accessible leap into feminism, for people at all stages of their journey who are seeking to reshape and transform the way they view themselves. In a world that tells women we're either not enough or too much, it's time we stop directing our anger and insecurities onto ourselves, and start fighting back to reshape the toxic structures of our patriarchal society. Florence's book will help you to tackle and challenge the limiting narrative you have been bombarded with your whole life, and determine feminism on your own terms. After all, you are the love of your own life.     ...Show more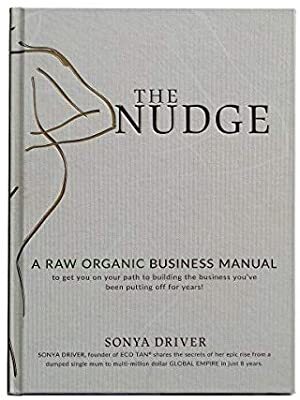 $19.95
AUD
Category: Self Help
A raw organic business manual to get you on your path to building the business you have been thinking about for years!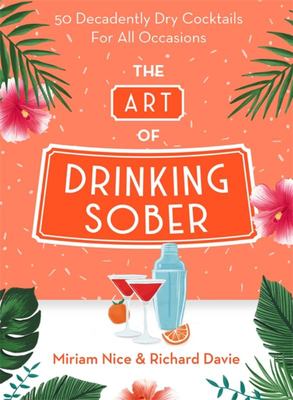 Art of Drinking Sober
by Miriam Nice; Richard Davie; Katy Alcock (Illustrator)
$24.99
AUD
Category: Self Help
Discover your new favourite tipple with this beautifully illustrated collection of 50 no-alcohol cocktails. Easy to make and delicious to drink, these cocktails are perfect for anyone looking to cut back on alcohol not enjoyment. From sweet and fruity flavours to spiced and smokey, bitter and aromatic to perfectly sour, there's something for everyone. Experience the excitement of no-alcohol drinks with recipes including: · CITRUS COSMO · NEW NEW YORK SOUR · DARK & STORMY SODA · SHERBET MARGARITA · ESPRESSO FAUX-TINI Whether you're a no-drinker, Dry January dabbler, mum-to-be or simply curious; this book will revolutionise the way you drink. ...Show more
$32.99
AUD
Category: Self Help
Many of us experience feelings of being stuck in the wrong life and disconnected from our true selves. Australian mindfulness expert and bestselling author Kate James has coached thousands of clients in similar situations. Now, in Change Your Thinking to Change Your Life, Kate introduces us to a range o f techniques, based on her knowledge of mindfulness, positive psychology, ACT, creativity and neuropsychology, that will help us clarify our goals, realise our purpose and connect more fully with the wonder of life. Change Your Thinking to Change Your Life will help you to:- get to know yourself well- overcome the thoughts and beliefs that inhibit inner peace and limit you in your life choices- find your way to your version of a fulfilling life. Change Your Thinking to Change Your Life is the perfect companion for negotiating transformation in an unsettled age. Praise for Kate James 'A collection of invaluable insights, practical tools and life-enhancing advice.' David Michie, author of Hurry Up and Meditate ...Show more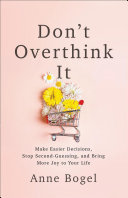 $24.95
AUD
Category: Self Help
A Wall Street Journal bestseller ***We've all been there: stuck in a cycle of what-ifs, plagued by indecision, paralyzed by the fear of getting it wrong. Nobody wants to live a life of constant overthinking, but it doesn't feel like something we can choose to stop doing. It feels like something we're w ired to do, something we just can't escape. But is it?Anne Bogel's answer is no. Not only can you overcome negative thought patterns that are repetitive, unhealthy, and unhelpful, you can replace them with positive thought patterns that will bring more peace, joy, and love into your life. In Don't Overthink It, you'll find actionable strategies that can make an immediate and lasting difference in how you deal with questions both small--Should I buy these flowers?--and large--What am I doing with my life? More than a book about making good decisions, Don't Overthink It offers you a framework for making choices you'll be comfortable with, using an appropriate amount of energy, freeing you to focus on all the other stuff that matters in life. ...Show more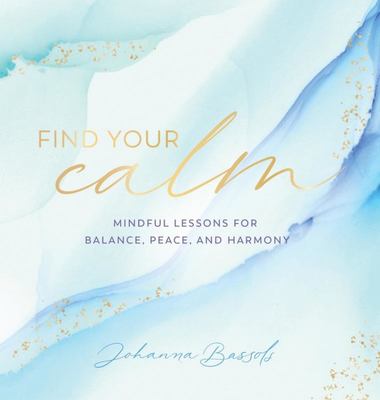 $29.99
AUD
Category: Mind Body Spirit | Series: Everyday Inspiration Ser.
With the beautiful, inspirational, and practical Find Your Calm, learn how to reprogram your thinking for a more tranquil life. Beautiful, inspirational, and practical, Find Your Calm shows you how to recognize your negative mental patterns and reprogram your thinking to live your best life. Let Johanna Bassols, a recognized thought leader, guide you on this journey to transform your mind through exercises designed to free your life of clutter and bring calm, balance, peace, and focus, reaffirming your truest self. Including motivational quotes, stories, and advice, Find Your Calm will help you quiet the distractions and emphasize your worth, so you can be more present for yourself and those around you. You'll find words of encouragement whenever you need them in this beautiful little nightstand book. Find ways to create a more spiritual, soulful, and happier you with this gorgeous devotional begging to be gifted. Words of encouragement and inspiration from women around the world come together in the Everyday Inspiration series from Rock Point. Follow the journeys of hundreds of strong female leaders from past to present through thoughtful biographies and empowering quotes, and receive advice for how to live a more thoughtful and fulfilling life overall through performing acts of kindness for other or various methods of self-care. The perfect gift for family and friends, these gorgeous hardcovers featuring foiled covers and full-color interiors bring these amazing words of wisdom to life. Other titles in the series include: Grit & Grace; Find Your Glow, Feed Your Soul; Follow Your Bliss, Beautifully Said; and Hello Gorgeous! ...Show more
$32.99
AUD
Category: Self Help
Ever wondered whether change is possible? Respected businesswoman Stacey Currie is proof that it is. Raised in housing commission accommodation, Stacey was pregnant at 15. At 19, she had two kids and was homeless. At 21, authorities gave her a stark choice- leave her abusive partner and go into counsell ing or lose her three kids to foster care. Stacey had to make big changes. When all she knew was battling, figuring out goals for her 'new life' seemed impossible. Starting with what she didn't want, she got rid of one unhelpful habit after another. Now a qualified leadership coach and mentor, the happily married mother of five shares how she turned her life around.Each chapter of Good Riddance focuses on a habit Stacey once had things like blaming others, hanging on to limiting beliefs, being addicted to drama and shows how she got herself unstuck. With her no-bullshit style and humour, Stacey is the life coach you've always needed. Her explanations, exercises and prompts will see you regain hope, lose your baggage and set up a new chapter in your life.Say good riddance to bad rubbish and start living the life you really want.   ...Show more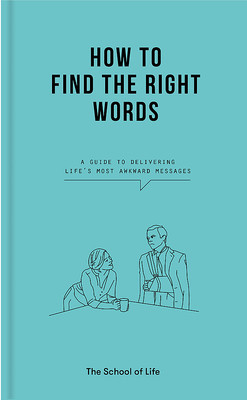 $19.99
AUD
Category: Self Help
Life constantly requires us to give other people some hugely awkward messages: that we don't love them anymore; that we do love them (though we're not meant to); that they smell a bit; that they're fired; that we're furious with them (though we adore them) or that their music is too loud...Often, out of embarrassment, we just stay quiet. Occasionally we explode. And typically, we stumble about, looking for the right words - dreading that we didn't find them and thereby causing more hurt than we should.This is a book to help us locate the best possible words to get across a range of life's most difficult messages. With twenty case studies drawn from relationships, friendships, work, our families and service situations, we are gently shown what we might - in an ideal world - find ourselves saying to make our intentions known while causing minimal harm. We are guided, among other topics, to how best to end a relationship, how to make it up with a child and how gently to let down a friend who wants more.We laugh, we recognise our troubles - and we're introduced to a range of deeply empathetic ways to navigate some of our most acute social dilemmas. ...Show more