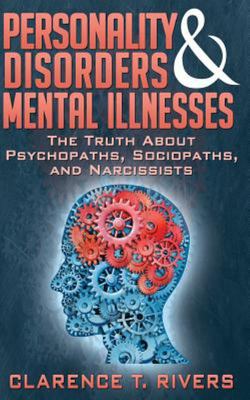 $25.95
AUD
Category: Psychiatry & Psychology
PERSONALITY DISORDERS & MENTAL ILLNESSES **Limited Edition** From the Unleash the Power of the Mind collection and the award winning writer, Clarence T. Rivers, comes a masterful explanation of the mind and the various personality disorders and mental illnesses. "An excellent look into minds of those with all types of personality disorders...powerful stuff " - Elliot Moore, Book Critique Topics of Discussion - Personality Disorders and Mental Illnesses - Psychopathy Defined - Crime and Psychopaths - Psychopaths vs. Sociopaths - Sociopath Defined - The Goal of a Sociopath - The Weaknesses of a Sociopath - Dealing with a Sociopath - Narcissism Defined - The Narcissist in You - The Narcissists of Today - How to Deal with a Narcissist - and much more Grab Your Copy Today The contents of this book are easily worth over $30 but if you purchase this book today you will get it for just $11.99 --------- Tags: Personality Disorders, Mental Illness, Psychopath, Sociopath, ASPD, Narcissist, Narcissism ...Show more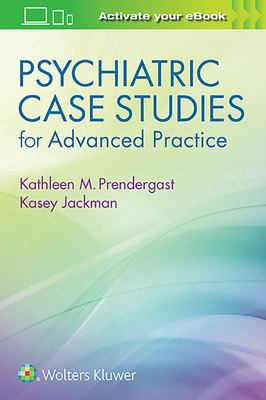 $96.25
AUD
$106.00
(9% off)
Category: Psychiatry & Psychology
Publisher's Note: Products purchased from 3rd Party sellers are not guaranteed by the Publisher for quality, authenticity, or access to any online entitlements included with the product. "This book will help students and clinicians gain a complete understanding of psychiatric assessment, become familia r with the symptoms that make up the major DSM-5 diagnoses, and formulate treatment planning by using actual clinical situations. It transforms difficult clinical concepts into clear examples, illustrating the process of assessment, diagnosis, and treatment planning." --Candice Knight, PhD, EdD, APN, PMHNP-BC Get much-needed exposure to real-world clinical scenarios and psychiatric evaluations, with this invaluable guide to positive, effective psychiatric advance practice nursing care. For an expert guide to providing patient-centered, evidence-based psychiatric care, keep Psychiatric Case Studies for Advanced Practice by your side. Practical and easy-to-follow, these more than 50 case scenarios clearly display the complaints, diagnoses, and treatments of the most common psychiatric disorders, supporting the critical decision-making skills of nurses practicing in a broad range of settings. Psychiatric, family, emergency, and general practice nurse practitioners of all experience levels will find this an invaluable aid for creating an informed, holistic practice.Follow the real-life cases and expert analysis of psychiatric patients of a wide variety of ages, backgrounds, and conditions . . . Real-world child, adolescent, adult, and geriatric inpatient and outpatient psychiatric case studies that emphasize problem-based learning and an evidence-based practice Current diagnostic content from the Diagnostic and Statistical Manual of Mental Disorders, 5th Edition (DSM-5), that includes DSM-5's newer diagnoses--gender dysphoria, binge eating disorder, and autism spectrum, plus current treatments for alcohol and opiate addiction Sample routine screening tools that offer convenient checklists and handouts to support patient treatment Content presented in a simple format--organized by age and indexed by diagnostic category for quick reference Each case presented in a standard format: chief complaint, history, mental status, diagnosis, differential diagnosis, treatment plan, and rationale for treatment prescribed--with questions at the end that guide you to create a diagnosis using the DSM-5 Cases addressing a wide range of disorders and supporting all experience levels in a variety of treatment settings--counseling centers, correctional facilities, homeless shelters, inpatient psychiatric units, and hospital consultation and liaison services Treatments and rationales that represent current, evidence-based research--treatment sections divided into psychopharmacology, diagnostic tests, referral, psychotherapy, and psychoeducatio Supplemental teaching tool for graduate psychiatric nurse practitioner/APN programs About the Authors Kathleen M. Prendergast, MSN, RN, APN, PMHNP-BC, is a former Instructor in Clinical Nursing, Columbia University School of Nursing, New York; a Psychiatric Consultant at Seton Hall University Counseling and Psychological Services; and a Psychiatric Nurse Practitioner at Caldwell University Counseling Center in Caldwell, New Jersey. Kasey Jackman, PhD, RN, PMHNP-BC, is Postdoctoral Research Fellowin Nursing at Columbia University School of Nursing in New York City, and has taught courses in the psychiatric-mental health nurse practitioner program. Dr. Jackman is a psychiatric nurse practitioner at a psychiatric hospital and has previously worked in out-patient, partial hospital, and private practices ...Show more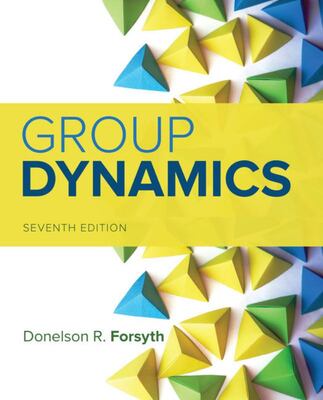 $126.83
AUD
$144.95
(12% off)
Category: Psychiatry & Psychology | Series: MindTap Course List Ser.
Offering the most comprehensive treatment of groups available, GROUP DYNAMICS, Sixth Edition, combines an emphasis on research, empirical studies supporting theoretical understanding of groups, and extended case studies to illustrate the application of concepts to actual groups. This best-selling book b uilds each chapter around a real-life case, drawing on examples from a range of disciplines including psychology, law, education, sociology, and political science. Tightly weaving concepts and familiar ideas together, the text takes readers beyond simple exposure to basic principles and research findings to a deeper understanding of each topic. Available with InfoTrac® Student Collections http://gocengage.com/infotrac. ...Show more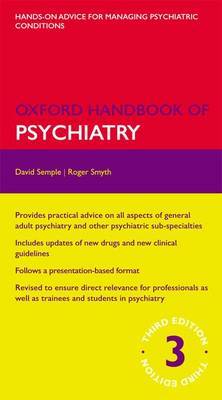 $62.96
AUD
$71.95
(12% off)
Category: Psychiatry & Psychology | Series: Oxford Medical Handbooks
Fully revised and updated for the new edition, the Oxford Handbook of Psychiatry provides the most up-to-date information clinically relevant to the doctor on the ground. Using a presentation-based format it provides detailed advice on clinical decision making after diagnosis. This handbook is an indisp ensable companion for any professional working in psychiatric medicine. Covering all major psychiatric conditions and sub-specialties, this handbook provides practical and comprehensive guidelines and in-depth coverage of psychiatric assessment, psychopathology, evidence-based practice, therapeutic issues, and transcultural psychiatry. It is indexed alphabetically by ICD-10 / DSM-IV classification codes and acute presentations for quick access. It reflects the recent major changes to psychiatric training and examination as well as the latest drug information. Reviewed by experienced clinicians, and revised by Specialist Trainees, this handbook not only gives expert advice for psychiatry professionals, but is also directly relevant to trainees in psychiatry. For the third edition, new information includes guidance on Adult ADHD, information on new drugs of abuse (e,g, GBL, GHB, mephodrone), and clinical decision-making in the prison setting. With such broad coverage and depth of guidance, this is the must-have pocket guide for all professionals and trainees working in psychiatry. ...Show more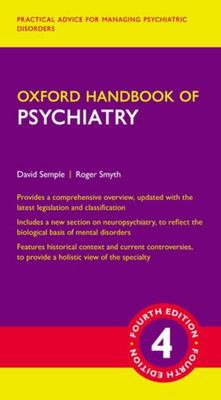 $62.95
AUD
$71.95
(12% off)
Category: Psychiatry & Psychology | Series: Oxford Medical Handbooks Ser.
This new fourth edition of the Oxford Handbook of Psychiatry is the essential, evidence-based companion to all aspects of psychiatry, from diagnosis and conducting a clinical interview to management by subspecialty. Fully updated to reflect changes to the legislature and classification of psychiatric di sorders, and with coverage of the anticipated ICD-11 coding, this Handbook provides the latest advances in both clinical practice and management today.As in previous editions, the Handbook is indexed alphabetically by ICD-10 and DSM-5 codes,as well as a list of acute presentations for quick access in emergency situations. The practical layout helps the reader in making clinical diagnosis, and suggested differential diagnosis makes this title an invaluable guide to provide reassurance to health professionals when dealing with psychiatric issues.With a new chapter on Neuropsychiatry and a re-written section on gender dysphoria to reflect the biological and cultural developments in understanding and research since the previous edition, and filled with clinical observations, guidance, and commentary that reflects the authors' practical experiences of working in psychiatry, this Handbook is the indispensable guide for all trainee and practising psychiatrists. ...Show more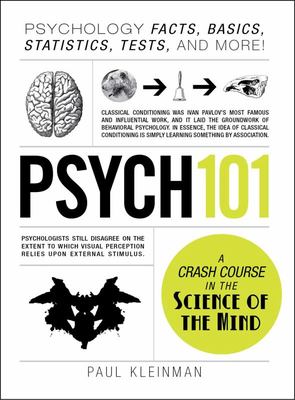 $24.99
AUD
Category: Psychiatry & Psychology | Series: 101
A hands-on approach to exploring the human mind Too often, textbooks turn the noteworthy theories, principles, and experiments of psychology into tedious discourse that even Freud would want to repress. Psych 101 cuts out the boring details and statistics, and instead, gives you a lesson in psychology that keeps you engaged - and your synapses firing. From personality quizzes and the Rorschach Blot Test to B.F. Skinner and the stages of development, this primer for human behavior is packed with hundreds of entertaining psychology basics and quizzes you can't get anywhere else. So whether you're looking to unravel the intricacies of the mind, or just want to find out what makes your friends tick, Psych 101 has all the answers - even the ones you didn't know you were looking for. ...Show more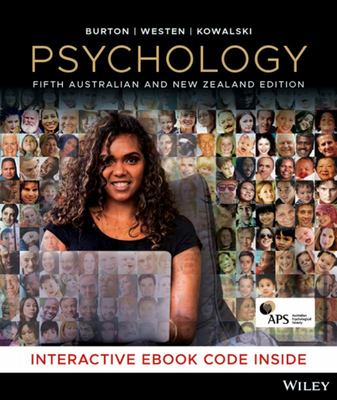 $139.96
AUD
$159.95
(12% off)
Category: Psychiatry & Psychology
Psychology, 5th Edition enables every introductory psychology student to master concepts through proven pedagogy and meaningful 'tales from the front' videos with practicing psychologists. Neuroplasticity content is integrated throughout every chapter. Available as a full-colour printed textbook with an interactive eBook code, this text enables every student to master concepts and succeed in assessment, and supports lecturers with an extensive and easy-to-use teaching and learning package. ...Show more
$72.65
AUD
$83.00
(12% off)
Category: Psychiatry & Psychology
The Publication Manual of the American Psychological Association, Seventh Edition is the official source for APA Style. With millions of copies sold worldwide in multiple languages, it is the style manual of choice for writers, researchers, editors, students, and educators in the social and behavioral s ciences, natural sciences, nursing, communications, education, business, engineering, and other fields. Known for its authoritative, easy-to-use reference and citation system, the Publication Manual also offers guidance on choosing the headings, tables, figures, language, and tone that will result in powerful, concise, and elegant scholarly communication. It guides users through the scholarly writing process--from the ethics of authorship to reporting research through publication. The seventh edition is an indispensable resource for students and professionals to achieve excellence in writing and make an impact with their work. The seventh edition has been thoroughly revised and updated to reflect best practices in scholarly writing and publishing. All formats are in full color, with a new tabbed spiral version Improved ease of navigation, with many additional numbered sections to help users quickly locate answers to their questions Resources for students on writing and formatting annotated bibliographies, response papers, and other paper types as well as guidelines on citing course materials Dedicated chapter for new users of APA Style covering paper elements and format, including sample papers for both professional authors and student writers New chapter on journal article reporting standards that includes updates to reporting standards for quantitative research and the first-ever qualitative and mixed methods reporting standards in APA Style New chapter on bias-free language guidelines for writing about people with respect and inclusivity in areas including age, disability, gender, participation in research, race and ethnicity, sexual orientation, socioeconomic status, and intersectionality More than 100 new reference examples covering periodicals, books, audiovisual media, social media, webpages and websites, and legal resources More than 40 new sample tables and figures Expanded guidance on ethical writing and publishing practices, including how to ensure the appropriate level of citation, avoid plagiarism and self-plagiarism, and navigate the publication process Guidelines that support accessibility for all users, including simplified reference, in-text citation, and heading formats as well as additional font options ...Show more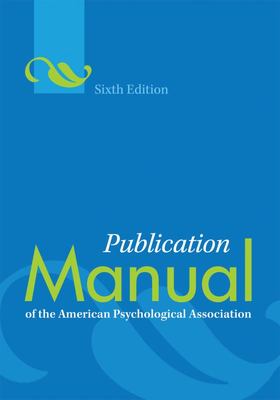 $20.00
AUD
$99.00
(79% off)
Category: Psychiatry & Psychology
The Publication Manual of the American Psychological Association is the style manual of choice for writers, editors, students, and educators in the social and behavioural sciences. It provides invaluable guidance on all aspects of the writing process, from the ethics of authorship to the word choice tha t best reduces bias in language. Well-known for its authoritative and easy-to-use reference and citation system, the Publication Manual also offers guidance on choosing the headings, tables, figures and tone that will result in strong, simple, and elegant scientific communication. The Sixth Edition offers new and expanded instruction on publication ethics, statistics, journal article reporting standards, electronic reference formats, and the construction of tables and figures. The Sixth Edition has been revised and updated to include new ethics guidance on such topics as determining authorship and terms of collaboration, duplicate publication, plagiarism and self-plagiarism, disguising of participants, validity of instrumentation, and making data available to others for verification; new journal article reporting standards to help readers report empirical research with clarity and precision; simplified APA heading style to make it more conducive to electronic publication; updated guidelines for reducing bias in language to reflect current practices and preferences, including a new section on presenting historical language that is inappropriate by present standards; new guidelines for reporting inferential statistics and a significantly revised table of statistical abbreviations new instruction on using supplemental files containing lengthy data sets and other media; significantly expanded content on the electronic presentation of data to help readers understand the purpose of each kind of display and choose the best match for communicating the results of the investigation, with new examples for a variety of data displays, including electrophysiological and biological data; consolidated information on all aspects of reference citations, with an expanded discussion of electronic sources emphasising the role of the digital object identifier (DOI) as a reliable way to locate information; and expanded discussion of the publication process, including the function and process of peer review; a discussion of ethical, legal, and policy requirements in publication; and guidelines on working with the publisher while the article is in press. Key to this edition of the Publication Manual is an updated and expanded Web presence. Visit the APA Style web site to Look up additional supplemental material keyed to the book Test your knowledge of APA Style with a free tutorial on style basics Learn about the changes in the sixth edition with a free tutorial reviewing key revisions Sign up for an on-line course to enrich and enhance your understanding of APA Style Read the APA Style blog and share your comments on writing and referencing Consult frequently asked questions to sharpen your understanding of APA Style Examine additional resources on such topics as ethics, statistics, and writing Familiarise yourself with submission standards for APA books and journals What''s New in the Sixth Edition? Book has been updated to acknowledge and incorporate advances in computer technology. New discussions of the creation, submission, and storage of supplemental data. New guidelines for referencing electronic sources. New and expanded reference examples for a variety of on-line sources. Redesigned APA Style website, expanded to provide tutorials, on-line courses, and other resources for learning APA style. Book has been reorganised and streamlined for ease of use Organised to describe the writing process from idea to publication, it begins with background information on ethical issues in publishing, then moves on to manuscript structure and content, then writing style and rules, then graphics and references, then guidance on working with the publisher. Sample paper section has been moved up and featured to better exemplify manuscript structure and content Like discussions have been moved to one place in the book, with discussions of function followed by instruction on form. Focus has been broadened to include readers in the behavioural and social sciences. Information specific to APA has been moved to the web, where it is more broadly accessible and can be updated frequently. New examples throughout the book have been drawn from publications in education, business, and nursing as well as psychology. ...Show more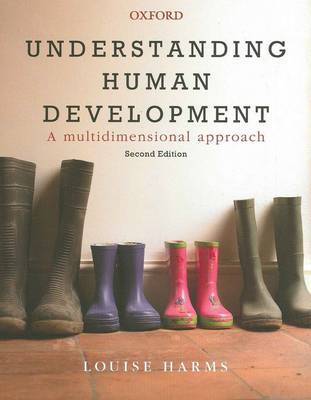 $82.21
AUD
$93.95
(12% off)
Category: Psychiatry & Psychology
Provides an understanding of the social ecology of human behaviour and adaptation, examining the role of social networks in building social capital, adaptation in traumatic situations, risk and resilience in the face of adversity, and the influences of gender, culture and social class. Author from Unive rsity of Melbourne. ...Show more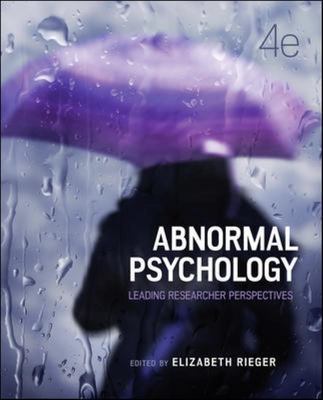 $126.83
AUD
$144.95
(12% off)
Category: Psychiatry & Psychology
The fourth edition of the award-winning text, Abnormal Psychology, provides students with a comprehensive and engaging introduction to the subject. Building on the legacy of previous editions, it provides cutting-edge coverage of core concepts and promotes evidence-based learning and research in the fie ld. This new edition is closely aligned with the DSM-5 and ICD-10 and includes a separate chapter on gender dysphoria. The numerous examples and case studies from Australia and the Asia-Pacific region will encourage students to consider the real-world application of their studies. Written by a team of locally based, leading experts in their fields, Abnormal Psychology 4e can be relied on for its up-to-date content, and innovative SmartBook technology that adds real value to the learning experience. This is the essential resource for students and instructors alike. ...Show more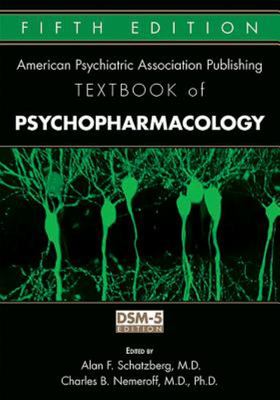 $458.00
AUD
Category: Psychiatry & Psychology
The American Psychiatric Association Publishing Textbook of Psychopharmacology is an indispensable and comprehensive resource for clinicians and trainees who prescribe psychotropic medications. Updated to reflect the new DSM-5 classification, this revised Fifth Edition maintains the user-friendly struct ure of its predecessors while offering in-depth coverage of the latest research in pharmacological principles, classes of drugs, and psychiatric disorders. Introductory chapters provide a theoretical grounding in clinical applications, with topics ranging from neurotransmitters to brain imaging in psychopharmacology. The bulk of the book is devoted to various classes of drugs, including antidepressants, anxiolytics, antipsychotics, mood stabilizers, and other agents, with each class divided into chapters on specific drugs -- either new or revised to include the latest findings and trends. Finally, the section on psychopharmacological treatment addresses evidence-based principles of clinical care for the full spectrum of mental disorders and conditions -- from depression to chronic pain -- as well as for specific populations and circumstances -- from children and adolescents to psychiatric emergencies -- offering information on topics such as medication selection, combination and maintenance dosing regimens, monitoring and management of side effects, and strategies for optimizing treatment response. The book's beneficial features are many: - The section on principles of pharmacology has been revised and reorganized to incorporate recent discoveries from the fields of neurobiology, genetics, brain imaging, and epidemiology.- History and discovery, structure--activity relationships, pharmacological profiles, pharmacokinetics and disposition, mechanisms of action, indications and efficacy, side effects and toxicology, and drug--drug interactions are addressed for each agent. This consistent structure places the desired information at the clinician's fingertips and facilitates study for trainees.- Coverage of drugs approved since the last edition is thorough, encompassing new antidepressants (e.g., vortioxetine), new antipsychotics (e.g., cariprazine), and agents on the clinical horizon (e.g., ketamine).- More than 180 tables and graphs present critically important data in an accessible way. A work of uncommon scientific rigor and clinical utility, The American Psychiatric Association Publishing Textbook of Psychopharmacology provides state-of-the-art information on both the principles and the practice of psychopharmacological treatment of psychiatric disorders. ...Show more