Our next Fiction Book Club get together is Wednesday July 29th at 6pm.
Please call 3394 4949 or email info@booksatstones.com.au to RSVP.
Our Book Clubs are free to join. We ask participants to purchase the book from Books@Stones at a 10% discount.
Our book for July is Maybe The Horse Will Talk by Elliot Perlman.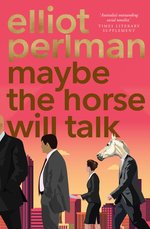 What if the only way to keep your job was to antagonise your boss?
'I am absolutely terrified of losing a job I absolutely hate.'
Stephen Maserov has problems. A onetime teacher, married to fellow teacher Eleanor, he has retrained and is now a second-year lawyer working at mega-firm Freely Savage Carter Blanche. Despite toiling around the clock to make budget, he's in imminent danger of being downsized. And to make things worse, Eleanor, sick of single-parenting their two young children thanks to Stephen's relentless work schedule, has asked him to move out.