$32.99
AUD
Category: Australian Fiction
The bestselling author of Boy Swallows Universe, Trent Dalton, returns with All Our Shimmering Skies - a glorious novel destined to become another Australian classic. Darwin, 1942, and as Japanese bombs rain overhead, motherless Molly Hook, the gravedigger's daughter, turns once again to the sky for gui dance. She carries a stone heart inside a duffel bag next to the map that leads to Longcoat Bob, the deep country sorcerer who put a curse on her family. By her side are the most unlikely travelling companions: Greta, a razor-tongued actress and Yukio, a fallen Japanese fighter pilot. 'Run, Molly, run,' says the daytime sky. Run to the vine forests. Run to northern Australia's wild and magical monsoon lands. Run to friendship. Run to love. Run. Because the graverobber's coming, Molly, and the night-time sky is coming with him. So run, Molly, run. All Our Shimmering Skies is a story about gifts that fall from the sky, curses we dig from the earth and the secrets we bury inside ourselves. It is an odyssey of true love and grave danger; of darkness and light; of bones and blue skies. A buoyant, beautiful and magical novel abrim with warmth, wit and wonder, a love letter to Australia and the art of looking up. ...Show more
The bestselling author of Boy Swallows Universe, Trent Dalton, returns with All Our Shimmering Skies - a glorious novel destined to become another Australian classic.
Darwin, 1942, and as Japanese bombs rain overhead, motherless Molly Hook, the gravedigger's daughter, turns once again to the sky for guidance. She carries a stone heart inside a duffel bag next to the map that leads to Longcoat Bob, the deep country sorcerer who put a curse on her family. By her side are the most unlikely travelling companions: Greta, a razor-tongued actress and Yukio, a fallen Japanese fighter pilot.
'Run, Molly, run,' says the daytime sky. Run to the vine forests. Run to northern Australia's wild and magical monsoon lands. Run to friendship. Run to love. Run. Because the graverobber's coming, Molly, and the night-time sky is coming with him. So run, Molly, run.
All Our Shimmering Skies is a story about gifts that fall from the sky, curses we dig from the earth and the secrets we bury inside ourselves. It is an odyssey of true love and grave danger; of darkness and light; of bones and blue skies. A buoyant, beautiful and magical novel abrim with warmth, wit and wonder, a love letter to Australia and the art of looking up.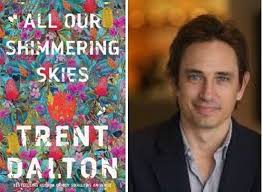 $32.99
AUD
Category: Australian Fiction
The highly anticipated new novel by the bestselling author of Jasper Jones. 'Find out who you are, and live that life.' Late in the night, fourteen-year-old Sam Watson steps onto a quiet overpass, climbs over the rail and looks down at the road far below. At the other end of the same bridge, an old ma n, Vic, smokes his last cigarette. The two see each other across the void. A fateful connection is made, and an unlikely friendship blooms. Slowly, we learn what led Sam and Vic to the bridge that night. Bonded by their suffering, each privately commits to the impossible task of saving the other. Honeybee is a heartbreaking, life-affirming novel that throws us headlong into a world of petty thefts, extortion plots, botched bank robberies, daring dog rescues and one spectacular drag show. At the heart of Honeybee is Sam: a solitary, resilient young person battling to navigate the world as their true self; ensnared by loyalty to a troubled mother, scarred by the volatility of a domineering stepfather, and confounded by the kindness of new alliances. Honeybee is a tender, profoundly moving novel, brimming with vivid characters and luminous words. It's about two lives forever changed by a chance encounter - one offering hope, the other redemption. It's about when to persevere, and when to be merciful, as Sam learns when to let go, and when to hold on.     ...Show more
Browse by category
Join our Book Clubs
Our Book Clubs meet bimonthly. We offer an Australian Fiction, a Non-Fiction, Crime Fiction and Travel Writing Book Clubs. Book Club members receive a 10% discount on the monthly book.
Meeting Room Available
We have one air-conditioned meeting room available for hire on a casual basis. The room seats up to 15 depending on seating and table configuration. Data projector is available.
Looking for Something Specific?
If you are looking for a particular book that you cannot find on our website please send us a query with as much (or as little) information as you have on the book and we will advise you price and availability by email. Contact