$14.99
AUD
$17.99
(16% off)
Category: Fantasy | Series: Nevermoor | Reading Level: near fine
Morrigan Crow's adventures in the magical world of Nevermoor continue . . . The most anticipated sequel of the year - a treat for all fans of magic and 'wunder'. A stunningly designed package - with silver foil, hidden artwork under the jacket and beautifully designed interiors - a perfect gift for all young readers. 'An extraordinary story full of magics great and small' Kiran Millwood Hargrave, author of THE GIRL OF INK AND STARS Imagination, discovery and friendship await Morrigan Crow when she escapes her deadly curse and joins the Wundrous Society. It promises her protection and belonging for life - but then Morrigan doesn't receive the welcome she hoped for... Morrigan is a much-feared Wundersmith. So, instead of the Society helping Morrigan to embrace her power, she is only taught that all Wundersmiths are evil and she must suppress her mysterious ability at all costs. To make things worse, Nevermoor is quickly turning from a place of safety into one of danger. Society members are going missing, someone is blackmailing Morrigan's new friends, turning them against her. And Ezra Squall, the evillest man who ever lived, is determined to lure Morrigan from the Society by promising to reveal the true nature of the Wunder that calls to her, which is becoming ever harder to resist... Has Morrigan's dream of escaping her cursed life ended before it truly began? Perfect for fans of the Harry Potter series and His Dark Materials, this series takes readers into an extraordinary world, setting hope and imagination alive. NEVERMOOR - WINNER OF THE WATERSTONES CHILDREN'S BOOK PRIZE 2018 YOUNGER FICTION CATEGORY. ...Show more
$14.99
AUD
$17.99
(16% off)
Category: Fantasy | Series: Nevermoor | Reading Level: very good
A breathtaking, enchanting new series by debut author Jessica Townsend, about a cursed girl who escapes death and finds herself in a magical world-but is then tested beyond her wildest imagination. Having been born on Eventide, the unluckiest day for any child to be born, she is blamed for all local mi sfortunes, from hailstorms to heart attacks - and, worst of all, the curse means that Morrigan is doomed to die at midnight on her eleventh birthday. But as Morrigan awaits her fate, a strange and remarkable man named Jupiter North appears. Chased by black-smoke hounds and shadowy hunters on horseback, he whisks her away into the safety of a secret, magical city called Nevermoor. It's then that Morrigan discovers Jupiter has chosen her to contend for a place in the city's most prestigious organization: the Wundrous Society. In order to join, she must compete in four difficult and dangerous trials against hundreds of other children, each boasting an extraordinary talent that sets them apart - an extraordinary talent that Morrigan insists she does not have. To stay in the safety of Nevermoor for good, Morrigan will need to find a way to pass the tests-or she'll have to leave the city to confront her deadly fate. Perfect for fans of the Harry Potter series and Neil Gaiman, this fast-paced plot and imaginative world has a fresh new take on magic that will appeal to a new generation of readers. ...Show more
$16.99
AUD
Category: Adventure | Series: Alice-Miranda
Alice-Miranda and her friends are heading into the Australian outback for a desert adventure. What mysteries will they stumble upon?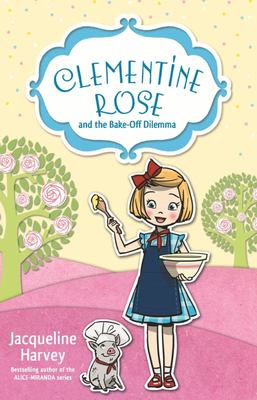 $14.99
AUD
Category: Middle Readers | Series: Clementine Rose
Clementine Rose is bursting with plans for the school holidays! But with the announcement that a new cooking show will be filmed in the village, everything changes. While Clementine is disappointed that her activities have been cancelled, she soon has an idea and takes to the kitchen in a baking frenzy. If only her mother wasn't feeling so sick and could help out when things turn sticky. Everyone wants to be a part of the show – especially Mrs Bottomley! – and it doesn't take long before temperatures are running high. With the main event being held at Penberthy House, Clementine has the inside scoop and spies some surprising behaviour from the contestants. Will she uncover a secret? And will the show be a flop, or a scrumptious success? ...Show more
$19.99
AUD
Category: Adventure
Henry Khoo's family treats him like a baby. He's not allowed to go anywhere without his sister/chaperone/bodyguard. His (former) best friend knows to expect his family's mafia-style interrogation when Henry's actually allowed to hang out at her house. And he definitely CAN'T take a journey halfway aroun d the world all by himself! But that's exactly his plan. After his family's annual trip to visit his father in Singapore is cancelled, Henry decides he doesn't want to be cooped up at home with his overprotective family and BFF turned NRFF (Not Really Friend Forever). Plus, he's hiding a your-life-is-over-if-you're-caught secret: he's the creator of an anonymous gossip cartoon, and he's on the verge of getting caught. Determined to prove his independence and avoid punishment for his crimes, Henry embarks on the greatest adventure ever . . . hoping it won't turn into the greatest disaster ever. Remy Lai takes readers on an adventure filled with humour, heart, and hijinks that's a sure bet for fans of Jerry Craft, Terri Libenson, and Shannon Hale! ...Show more
$14.99
AUD
Category: Environmental Themes | Series: Eco Rangers Ser.
The Eco Rangers, Ebony and Jay, are having so much fun at the local adventure park. But when they find two abandoned baby bats, they rescue them right away. Then they discover more mocrobats inside an old rollercoaster ride. Can the Eco Rangers save the animals in time before the ride is destroyed.
$17.99
AUD
Category: Humour
Adventure awaits! From the imagination of Rowley Jefferson comes an adventure of epic proportions. Join Roland and his best friend, Garg the Barbarian, as they leave the safety of their village and embark on a quest to save Roland's mom from the White Warlock. Will our heroes survive? Find out in Rowley Jefferson's Awesome Friendly Adventure! ...Show more
$19.99
AUD
Category: Middle Readers
A gripping illustrated adventure about a travelling circus troupe, a future-telling macaw and a cursed pair of gloves that Shoestring must conquer once and for all. A companion to the award-winning KidGlovz. Shoestring loved the sudden intake of breath when he stepped onto the rope. The upturned faces of the audience made him think of coins scattered at his feet, more coins than he had ever taken when he was a pickpocket.' Twelve-year-old Shoestring is leaving behind his life of crime and starting a new career with the Troupe of Marvels. Their lead performer, he has an invisible tightrope and an act to die for. But trouble is brewing - the magical gloves that caused so much turmoil for KidGlovz are back. When he's wearing the gloves, the world is at Shoestring's fingertips. It's so easy to help himself to whatever he likes - even other people's hopes and dreams. But when he steals his best friend's mind, he's at risk of losing all he values most.A thrilling, heart-in-the-mouth adventure of ambition, friendship and the threads that bind from the award-winning creators of KidGlovz. ...Show more
$16.99
AUD
Category: Fantasy | Series: Wings of Fire
The New York Times bestselling series continues with a thrilling revelation -- brand-new tribes of dragons. Some secrets are deadly. It's no secret that Sundew wants to destroy the HiveWings. It's her life's mission to exact revenge on the tribe that tried to wipe out the LeafWings and ripped every tr ee from the surface of Pantala. Every tree, that is, except the wild and dangerous Poison Jungle, where the surviving LeafWings have been hiding since the war. Hiding, plotting, and waiting for a dragon like Sundew, who is uniquely qualified to bring down the Hives. There are dark secrets in the jungle, though-some that Sundew is keeping, and some that she's only just beginning to discover. And now that a new war is upon them, Sundew and her friends must unearth the oldest secret in the jungle-even if what they find has the power to destroy them all. ...Show more
$12.99
AUD
Category: Middle Readers | Series: Zola
Zola loves living on Boomerang Street with her mum and her nonna. Every day of the week is an adventure. But Zola has a problem. No matter how much she tries, she can't keep out of trouble! Seven stories in the series - one for every day of the week. From the bestselling author of Looking for Alibrand i. ...Show more
$17.99
AUD
Category: Middle Readers
In London's Belgravia, Tamsin lives next door to Edie St Clair, famous author of the 'London of the Bells' series of graphic novels. With the series' tenth and final novel overdue, Tamsin offers her idol help and discovers that Edie can literally draw herself into her stories. When Edie goes missing, T amsin draws herself into the novel and lands in a world of unexpected danger. The stakes couldn't be higher in this gripping adventure.   ...Show more