$17.99
AUD
Category: Fantasy | Series: Morrigan Crow
Morrigan Crow and her friends have survived their first year as proud scholars of the elite Wundrous Society, helped bring down the nefarious Ghastly Market, and proven themselves loyal to Unit 919. Now Morrigan faces a new, exciting challenge: to master the mysterious Wretched Arts of the Accomplished Wundersmith, and control the power that threatens to consume her. Meanwhile, a strange and frightening illness has taken hold of Nevermoor, turning infected Wunimals into mindless, vicious Unnimals on the hunt. As victims of the Hollowpox multiply, panic spreads. There are whispers - growing louder every day - that this catastrophe can only be the work of the Wundersmith, Ezra Squall. But inside the walls of Wunsoc, everyone knows there is a new Wundersmith - one who's much closer to home. With Nevermoor in a state of fear and the truth about Morrigan threatening to get out, the city she loves becomes the most perilous place in the world. Morrigan must try to find a cure for the Hollowpox, but it will put her - and everyone in Nevermoor - in more danger than she could have imagined. ...Show more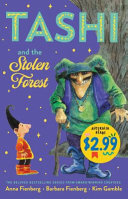 $2.99
AUD
Category: Fantasy
In this Australia Reads exclusive story, can Tashi use Much-to-Learn's spell to outsmart the Wicked Baron and stop the old forest from disappearing?  
$14.99
AUD
$17.99
(16% off)
Category: Fantasy | Series: Nevermoor | Reading Level: near fine
Morrigan Crow's adventures in the magical world of Nevermoor continue . . . The most anticipated sequel of the year - a treat for all fans of magic and 'wunder'. A stunningly designed package - with silver foil, hidden artwork under the jacket and beautifully designed interiors - a perfect gift for all young readers. 'An extraordinary story full of magics great and small' Kiran Millwood Hargrave, author of THE GIRL OF INK AND STARS Imagination, discovery and friendship await Morrigan Crow when she escapes her deadly curse and joins the Wundrous Society. It promises her protection and belonging for life - but then Morrigan doesn't receive the welcome she hoped for... Morrigan is a much-feared Wundersmith. So, instead of the Society helping Morrigan to embrace her power, she is only taught that all Wundersmiths are evil and she must suppress her mysterious ability at all costs. To make things worse, Nevermoor is quickly turning from a place of safety into one of danger. Society members are going missing, someone is blackmailing Morrigan's new friends, turning them against her. And Ezra Squall, the evillest man who ever lived, is determined to lure Morrigan from the Society by promising to reveal the true nature of the Wunder that calls to her, which is becoming ever harder to resist... Has Morrigan's dream of escaping her cursed life ended before it truly began? Perfect for fans of the Harry Potter series and His Dark Materials, this series takes readers into an extraordinary world, setting hope and imagination alive. NEVERMOOR - WINNER OF THE WATERSTONES CHILDREN'S BOOK PRIZE 2018 YOUNGER FICTION CATEGORY. ...Show more
$15.99
AUD
Category: Adventure
A high-flying new adventure series from mega-bestselling author Anh Do. Amber has always loved insects, even before the day her life changed forever. But now she feels something different. Something more...powerful. Controlling her power might be the hardest thing Amber has ever done. Especially when sh e is running for her life. Who is the mysterious Firefighter? What connection does he have to Amber's old life? And, most importantly, does Amber have what it takes to truly become ... Skydragon?    ...Show more
$45.00
AUD
Category: Fantasy
A mythical monster, a kingdom in peril, an adventure that will test two children's bravery to the limit. Discover a brilliantly original fairy tale about the power of hope and friendship to triumph against all odds, from one of the world's best storytellers. The kingdom of Cornucopia was once the happi est in the world. It had plenty of gold, a king with the finest moustaches you could possibly imagine, and butchers, bakers and cheesemongers whose exquisite foods made a person dance with delight when they ate them. Everything was perfect – except for the misty Marshlands to the north which, according to legend, were home to the monstrous Ickabog. Anyone sensible knew that the Ickabog was just a myth, to scare children into behaving. But the funny thing about myths is that sometimes they take on a life of their own. Could a myth unseat a beloved king? Could a myth bring a once happy country to its knees? Could a myth thrust two children into an adventure they didn't ask for and never expected? If you're feeling brave, step into the pages of this book to find out… A beautiful hardback edition, perfect for sharing and gift-giving. Brought to life with full-colour illustrations by the young winners of The Ickabog competition.   ...Show more
$15.99
AUD
Category: Adventure | Series: Wolf Girl
A wildly exciting adventure series from bestselling author Anh Do. Wolf Girl and her trusty dogs are back for another hackle-raising adventure. On the run from sinister forces, Gwen rushes head-long into danger. With giant snakes, komodo dragons and a whole new wolf pack to contend with, Wolf Girl will need all her cunning... and all her friends. ...Show more
$16.99
AUD
Category: Middle Readers
Ashleigh and Aiden are thirteen-year-old twins who promise to always look out for each other. Aiden is more dedicated to the task than Ashleigh, but when it comes to matters of life and death, they both exhibit a fierce protectiveness that will change the course of their lives. 'We've been worried about Aiden too, Ash,' said Mum. 'He's always been such a … predictable child. You're not the only one to have noticed the changes.'Ash and Aiden Delatour are identical twins, living a privileged lifestyle with loving parents. In a world that has fallen apart at the seams, they want for nothing. All they have to do is be there for each other, no matter what.But after Aiden suffers a terrible injury, he isn't the same brother Ash always relied on. Something has changed, and it will lead to a discovery that will turn their whole world upside down.A brilliant and timely middle-grade novel from the bestselling author of My Life As An Alphabet and A Song Only I Can Hear. ...Show more
$14.99
AUD
Category: Adventure | Series: The Treehouse
Andy and Terry have added 13 new levels to their treehouse and now it's even more out of this world than before! There's a soap bubble blaster, a GRABINATOR (it can grab anything from anywhere at any time), a time-wasting level, a toilet paper factory (because you can never have too much toilet paper), a room full of mechanical grandparents, a super long legs level, an extraterrestrial observation centre and the best bookshop-in-a-treehouse-in-a-tree-in-a-forest-in-a-book in the whole world! Well, what are you waiting for? Come on up! ...Show more
$14.99
AUD
Category: Middle Readers
In The Deep End, book 15 of the Diary of a Wimpy Kid series from #1 international bestselling author Jeff Kinney, Greg Heffley and his family hit the road for a cross-country camping trip, ready for the adventure of a lifetime. But things take an unexpected turn, and they find themselves stranded at an RV park that's not exactly a summertime paradise. When the skies open up and the water starts to rise, the Heffleys wonder if they can save their vacation-or if they're already in too deep. And don't miss Rowley Jefferson's Awesome Friendly Adventure, an all-new fantasy from Greg's best friend-the follow-up to the instant #1 bestseller Diary of an Awesome Friendly Kid- Rowley Jefferson's Journal.   ...Show more
$14.99
AUD
Category: Humour | Series: Frankie Fish
Australia's favourite comedian and children's author Peter Helliar is BACK!   Giddy up for the next instalment in the best-selling Frankie Fish series: it's the wildest time-travel adventure to date ...   Frankie Fish has a hunch that a famous Medicine Man from the Wild West holds the answer to his gra ndad's forgetfulness, so he and Drew pack their cowboy hats and spurs and take the Sonic Suitcase for another spin. But when they arrive, gold fever has struck, and Frankie and Drew must take on some sneaky outlaws and clear their new friend's name. Can Frankie Fish and Drew Bird yee-haw their way into the history books?    ...Show more
$14.99
AUD
Category: Environmental Themes | Series: Eco Rangers Ser.
The Eco Rangers, Ebony and Jay, are having so much fun at the local adventure park. But when they find two abandoned baby bats, they rescue them right away. Then they discover more mocrobats inside an old rollercoaster ride. Can the Eco Rangers save the animals in time before the ride is destroyed.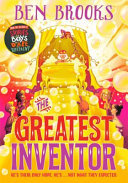 $19.99
AUD
Category: Biographies
Join the adventure. Break the curse. Find your way home. A magical new adventure from the bestselling author of THE IMPOSSIBLE BOY. Victor is skeptical when Walter Swizwit comes to the village of Rainwater. He's the latest in a string of inventors passing through, and no one wants to buy his cheap magic tricks. But Walter doesn't take rejection well, and puts a curse on the village. Only Victor is unaffected and he must leave Rainwater for the first time in his life if he's to find the cure. Victor's path takes him past other villages that Walter has damaged, and he picks up new companions on the way: Elena, handy with bow and arrow, Mo-Lan, a science prodigy, and scaredy-cat Mingus. It's soon clear that they underestimated Walter's power. Only he has the cure for his magic and he's locked away in his castle a thousand leagues away. But he's not the only inventor out there... If Victor and his friends can get someone more powerful on their side, maybe they can win: find Walter, break the curse and return as heroes. After all, there's no place like home...   ...Show more