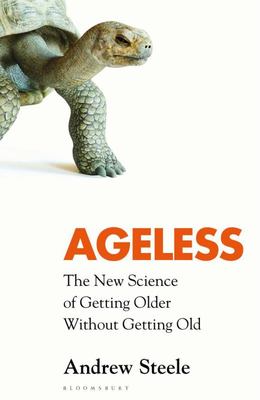 $29.99
AUD
Category: Popular Science
Ageing is the biggest cause of disease in our society. Cancer, heart disease, dementia, flu: the risk of all increase staggeringly rapidly as we near the end of life. What if we could slow down the process - or even stop it? Ageless introduces us to the cutting-edge research that is paving the way for a revolution in medicine. We currently focus on treating individual diseases as we grow older, but there might soon be a way of treating the ailment that underpins them all: the ageing process itself. Computational biologist Andrew Steele explains what is happening as we age, and how understanding its scientific implications could lead to the greatest discovery in the history of medicine - one that has the potential to improve billions of lives, save trillions of dollars, and transform the human condition.   ...Show more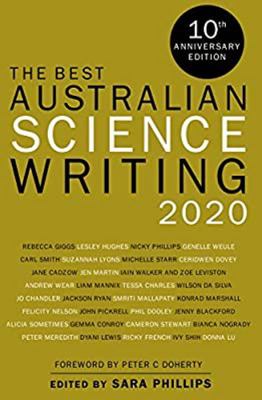 $32.99
AUD
Category: Popular Science
The annual collection – now in its tenth year – celebrating the finest voices in Australian science writing.Can fish feel pain? Does it matter if a dingo is different from a dog? Is there life in a glob of subterranean snot? Science tackles some unexpected questions. At a time when the world is buffeted by the effects of a pandemic, climate change and accelerating technology, the fruits of scientific labour and enquiry have never been more in demand. Who better to navigate us through these unprecedented days than Australia's best science writers.Now in its tenth year, this much-loved anthology selects the most riveting, entertaining, poignant and fascinating science stories and essays from Australian writers, poets and scientists. In their expert hands such ordinary objects as milk and sticky tape become imbued with new meaning, while the furthest reaches of our universe are made more familiar and comprehensible.With a foreword from Nobel laureate and immunologist Peter C Doherty, this collection brings fresh perspective to the world you thought you knew. ...Show more
$35.00
AUD
Category: Popular Science
Australia's favourite science guru returns with a new haul of extraordinary stories from our incredible Universe - includes pop-up Dr Karl holograms! Dr Karl is surfing the Universe for all that's gnarly, awesome, weird and wonderful.Why is sharpening a pencil in space a risky business?What makes a suns et red and not blue?How far would the Earth's viruses reach if you laid them end to end?Which animal grows an anus every time it needs to poo?Find out how spiders can fly and count, whether 5G networks are safe, why we're running out of sand, and the answer to the Question on Everyone's Lips - how to make the best coffee.Plus loads more, including pop-up Karl holograms!So take a surfing safari with Dr Karl and get ready to Hang Ten - or wipe out. ...Show more
$29.99
AUD
Category: Popular Science
A look at the extraordinary ways the brain turns thoughts into actions--and how this shapes our everyday lives Why is it hard to text and drive at the same time? How do you resist eating that extra piece of cake? Why does staring at a tax form feel mentally exhausting? Why can your child expertly fix th e computer and yet still forget to put on a coat? From making a cup of coffee to buying a house to changing the world around them, humans are uniquely able to execute necessary actions. How do we do it? Or in other words, how do our brains get things done? In On Task, cognitive neuroscientist David Badre presents the first authoritative introduction to the neuroscience of cognitive control--the remarkable ways that our brains devise sophisticated actions to achieve our goals. We barely notice this routine part of our lives. Yet, cognitive control, also known as executive function, is an astonishing phenomenon that has a profound impact on our well-being. Drawing on cutting-edge research, vivid clinical case studies, and examples from daily life, Badre sheds light on the evolution and inner workings of cognitive control. He examines issues from multitasking and willpower to habitual errors and bad decision making, as well as what happens as our brains develop in childhood and change as we age--and what happens when cognitive control breaks down. Ultimately, Badre shows that cognitive control affects just about everything we do. A revelatory look at how billions of neurons collectively translate abstract ideas into concrete plans, On Task offers an eye-opening investigation into the brain's critical role in human behavior. ...Show more
$35.00
AUD
Category: Popular Science
Did you know your irises are lying to you and all human eyes are actually brown? Want to know the absolute worst way to die, according to science? Did you know that a smoking psychedelic toad milk could alleviate depression for up to four weeks?   117 Things You Should F*#king Know About Your World tells you the answers to these questions and many more weird and wonderful facts about the universe. Split into the site's different subject areas of environment, technology, space, health and medicine, plants and animals, physics and chemistry, this is the ultimate science book. With 25 million social media followers, I F*#king Love Science is the world's favourite source of science on the web. From missing nuclear weapons and Facebook secret files to the world's smallest computer and why you should wrap your car keys in tinfoil, this is the book that only the world's leading source of crazy-but-true stories could produce. ...Show more
$22.99
AUD
Category: Popular Science
Sapiens showed us where we came from. Homo Deus looked to the future. 21 Lessons for the 21st Century explores the present. How can we protect ourselves from nuclear war, ecological cataclysms and technological disruptions? What can we do about the epidemic of fake news or the threat of terrorism? What should we teach our children? Yuval Noah Harari takes us on a thrilling journey through today's most urgent issues. The golden thread running through his exhilarating new book is the challenge of maintaining our collective and individual focus in the face of constant and disorienting change. Are we still capable of understanding the world we have created? ...Show more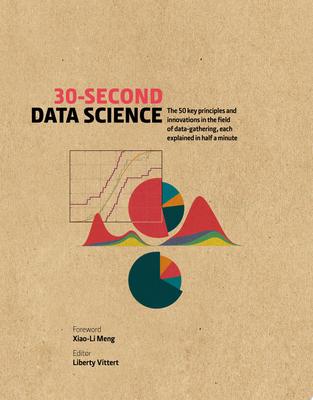 $27.99
AUD
Category: Popular Science | Series: 30 Second Ser.
30-Second Data Science covers 50 key elements in the field of data-gathering from basic to ethics, explained clearly and concisely.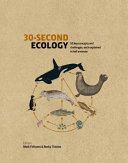 $27.99
AUD
Category: Popular Science | Series: 30 Second Ser.
30-Second Ecology explores how the life of organisms on Earth is interdependent and finely tuned to exist as a whole.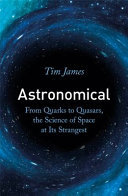 $32.99
AUD
Category: Popular Science
Does the Big Bang prove the existence of God? What's the Universe expanding into? Is Earth the only planet which supports life? Why did the greatest astronomer in history murder his pet moose? Space is the biggest, oldest, hottest, coldest, strangest thing a human can study. It's no surprise then, that the weirdest facts in science (not to mention the weirdest scientists themselves) are found in astrophysics and cosmology. If you're looking for instructions on how to set up your grandad's telescope this book probably isn't for you. In Astronomical, Tim James takes us on a tour of the known (and unknown) Universe, focusing on the most-mind boggling stuff we've come across, as well as unpacking the latest theories about what's really going on out there. Guiding us through Einstein's relativity, quantum mechanics and string theory, Astronomical delves into the baffling corners of the cosmos and tackles the biggest mysteries we face: from alien life to the zodiac; from white holes to wormholes; from quasars to quark stars. This is the science of space at its absolute strangest! From the creation of the Universe out of nothing to the Large Hadron Collider and the Universe's ongoing expansion, Tim explores our planetary neighbours, where it snows metal on Venus, there are underground lakes on Mars and rivers of petrol on Titan. He then looks beyond our solar system: to exoplanets which could support life, rogue planets, quark stars, quasars, neutron stars and more. Tim looks at black holes (and how to survive in one), wormholes, white holes as well as dark energy, dark matter and even a bit of string theory thrown in for good measure. He explains the search for extra-terrestrial intelligence, including the discovery of Martian fossils in the Alan Hills meteorite and the tantalising 'Wow signal' transmission earth received in 1973 - still unexplained. He also rebuts resurgent anti-science movements, including the Flat Earth Society and discusses what's really going on inside Area 51. To close, Tim finishes by looking at human achievements in space including how rockets work, how faster-than-light warp-drives (currently being investigated by NASA) work and how we plan to colonise both the moon and Mars. ...Show more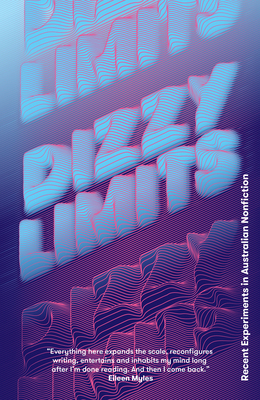 $29.99
AUD
Category: Popular Science
What is 'experimental nonfiction'? Like all nonfiction writing it is steeped in facts, in real events, and in real people, with the aim of communicating information, argument, and truth. It differs from traditional nonfiction in that it tries to convey its meaning using unorthodox form, or style, or voi ce, or point-of-view, or approach, or method. The very best pieces of experimental nonfiction are those in which any unorthodox element adds richly to the meaning and authenticity of the subject matter – to the point that it would be difficult to imagine the piece being successful without the experimenting. Dizzy Limits collects the very best examples of the above mentioned experimental nonfiction from our most intellectually ambitious and creatively curious writers. Dizzy Limits includes pieces that explore: the body and its relationship to the world; climate change; the connection of First Nations people to land; trans motherhood; leeches; computers pretending to be humans; and so much more – and all in truly dazzling and unexpected ways. Contributors include: Noelle Janaczewska, Jean Bachoura, Ellen van Neerven, Jessie Berry-Porter, W.J.P. Newnham, Bella Klaver, Amanda Stewart, Eloise Grills, Oscar Schwartz, Lucy Van, Rebecca Giggs, Evelyn Araluen, Tess Pearson, Quinn Eades, Vivienne Cutbush, Shu-Ling Chua, Holly Childs, Oliver Reeson, Sam Wallman, Sophia O'Rourke, Nikkola Mikocki- Bleeker, Harry Saddler, Elena Gomez, Autumn Royal, Stephanie Guest and Kate Riggs. ...Show more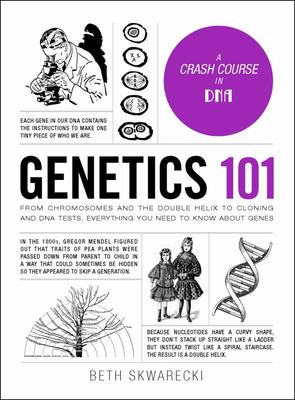 $24.99
AUD
Category: Popular Science | Series: Adams 101 Ser.
A clear and straightforward explanation of genetics in this new edition of the popular 101 series.   Our genetic makeup determines so much about who we are, and what we pass on to our children--from eye color, to height, to health, and even our longevity. Genetics 101 breaks down the science of how g enes are inherited and passed from parents to offspring, what DNA is and how it works, how your DNA affects your health, and how you can use your personal genomics to find out more about who you are and where you come from.   Whether you're looking for a better scientific understanding of genetics, or looking into your own DNA, Genetics 101 is your go-to source to discover more about both yourself and your ancestry. ...Show more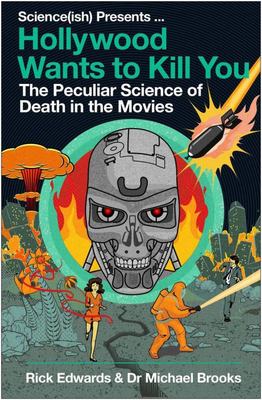 $22.99
AUD
Category: Popular Science
The hilarious new popular science book from the bestselling authors of the Sunday Times Book of the Year Science(ish).